And, just like that, you're on your way to an About Page that connects with your audience
No — Not just connect…
… you'll have an About Page that converts readers to prospects and prospects to buyers when most About Pages usually catche people napping
I'm so glad to be part of your journey. As you go through this step-by-step guide, you can see on my own About Page how the  guide worked to help me organize what I needed to say to my readers.
I've included an annotated image of my About Page in the back of the guide to help you visualize what should go where as you write your copy.
The most important thing to keep in mind is to write as if you are talking to a friend. When you're finished, let it rest a few days before reviewing the copy.
Keep reading below if you are interested in a quick professional review of your shiny new About Page.
Now… don't forget to check your email to confirm your address and get delivery of your About Page how-to guide.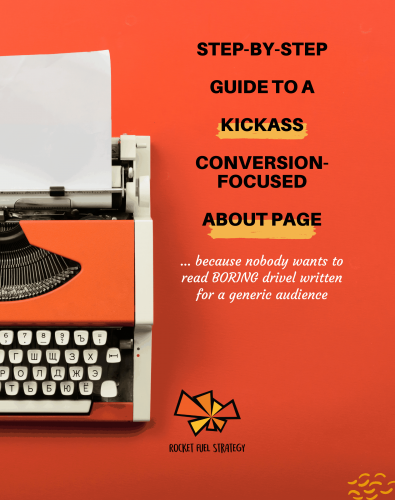 Would you mind doing me a quick favor?
This one question survey allows me to better tailor my services to meet the needs of my market. Thank you for your feedback.
Get expert eyes on your About Page with a Copy Optimizer Review
You've spent all this time agonizing over your Bio and trying to figure out how to weave your story in with the pains and needs of your target market, let's not waste your efforts.
Click the button below to get my eyes and expertise on the About Page you create using this step-by-step guide.
For $247 you'll get the confidence of knowing your About Page is ready to connect and convert with site visitors as well as:
a written on-page review of your page with copy & page design tips to promote conversions

a 30 minute video consult via Zoom to go over my suggestions – I'll tape it so you can go back to it again and again


Fill out the form and click the button below to complete the purchase. I'll send you a link to my Calendly page to set up our video chat once you send your copy for me to review.
Your payment is processed through Thrivecart. No data is stored on this site.